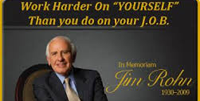 Many business owners prioritise their actions in the following order...
1. Work in your business
2. Work on your business
3. Work on yourself
I believe these priorities should be in reverse order.
The key is to take time out on a daily basis to work on improving yourself. Jim Rohn, the man who mentored Anthony Robbins and Darren Hardy, is a great example of this formula. At twenty-five Jim had no money in the bank; by the age of thirty-one he was a millionaire.
What changed?
Aged twenty-five Jim met a living catalyst called Earl Shoaffuan, who told him that his future would be the same as his past unless he made some big changes. Jim subsequently threw himself into studying true wisdom, putting what he'd learnt into practice. The result being, his future was no longer his history.
This is what Jim Rohn said about the importance of continual self-improvement:
"Work harder on yourself than you do on your job."
"Formal education will make you a living; self-education will make you a fortune."
"Miss a meal if you have to, but don't miss a book".
My own catalyst mentor, Brian Mayne, of Goal Mapping fame, shares a similar million-pound-turnaround story to that of Jim Rohn.
How do you work on yourself?
You take proactive action to develop yourself. My clients find that reading and putting into practice the wisdom in these three books beneficial to both personal and business growth.
- The Present by Spencer Johnson
- The Compound Effect by Darren Hardy
- The Four Agreements by don Miguel Ruiz
The results of repeated listening to the The Four Agreements on CD have been described as "life changing" by several of my clients. It is beautifully read by the Native American actor, Peter Coyote.
Let working on yourself become your true priority in 2014.
Merry Christmas and a Happy New Year

Tim Downes
Performance Coach
True Results Ltd